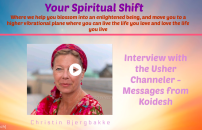 Channeled messages from Koidesh
I had a great talk with Jennifer and Karl, including live channeling and Master Koidesh answering questions live. The hightlight of our tlak must be when Koidesh found Karl´s question so funny that he started laughing - and my whole body started shaking from his laughter... You never know what you cane expect during a channeling session.
Our talk is available both as audio and video - and please excuse me for the bad lighting - tech issues.....